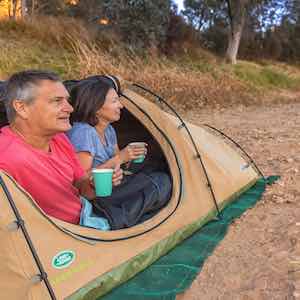 If going on an overnight tour you will sleep in a swag.
What is a swag?
A swag is the quintessential way of camping in the Australian Outback. It is basically a bed that is surrounded by canvas so it is waterproof and it can be rolled up for ease of carrying or transporting.  It has a built in mattress and was traditionally quite uncomfortable.
What swag do we use on our overnight camping tours?
The swags that we use on tour are a far cry from the original design. We use ARB Dome swags that we consider are the most comfortable available.  Features include:
made of thick Australian canvas to ensure they are waterproof
zip away fly mesh sides to improve airflow and be able to view millions of stars while keeping bugs out
a thick matress
spacious with room to sit up due to their 'dome' style
If you would like to experience the real Australian outback in a personalised 4WD tour leaving from Alice Springs, check out our different tour options.